Aug '99
We did Heart Mtn as a family trip. It was a hot day, and it was of course, very crowded. We made the first summit, and noticed a thunderstorm moving over the Rundle uplift. We boogied down to the trees in the dip between the first summit and the true summit, while the hordes made a mad dash down the front of the mountain. We waited out the storm and continued on around the horseshoe. Later that day when we arrived home, we found out that the same storm that caught us on the mountain also capsized many boats on the Ghost Resivoir.
April 7/03 - Went with Bryanne. Snow, wickedly windy and most amazing - we were alone! Even if it was a monday. Just trying to beat my legs into shape on this one...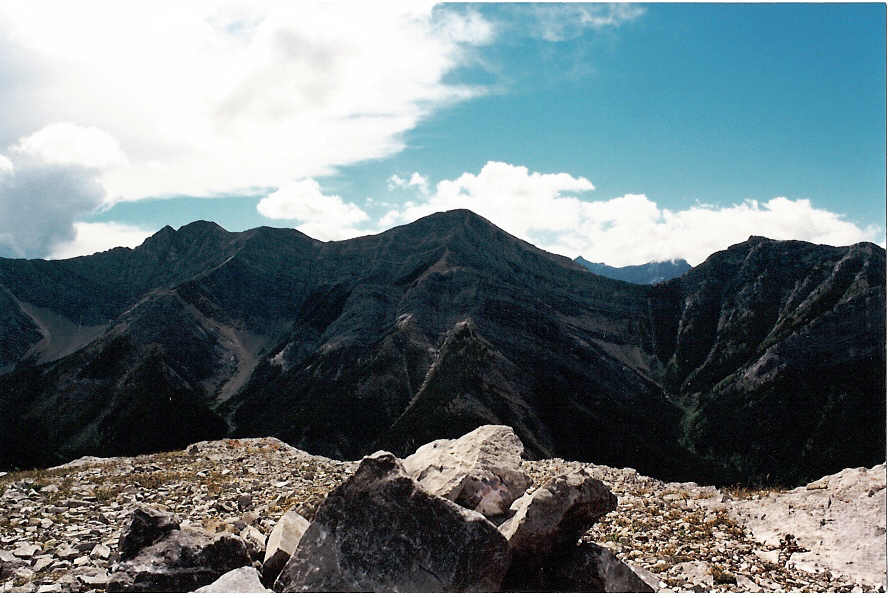 the summit cairn and the view W-SW
Coming around down the horse-shoe. I absolutely love it when the clouds are below you; it looks so neat!
07/04/03 Hmmm, less snow in April than May this year!
RT: ~5-6hrs for horseshoe