I've decided to add a more comprehensive list of mountains I wish to climb in the future. It's sub divided into 3 categories for some structure.
You may well notice my lust for aesthetic snow/ice routes!
Short term (in other words, they stand a good chance of seeing an attempt in the next few years):
Andromeda (skyladder)
Hector
Aberdeen & Haddo
Victoria/Lefroy
Forbes (!)
Assiniboine (likely via scramble route)
Edith Cavell E. Ridge
The middleground (these are of a more difficult standard, but appeal to me very much):
Robson N. Face
Bryce N. Face
Clemenceau N. Face
Columbia N. Ridge
Sir Sandford
Sir Alexander
...it could go on...
Cream of the Crop - these mountains require obscene amounts of time and money, but heck, I'm allowed to dream, right?
Logan E. Ridge
St. Elias
Fairweather
Yerupaja (eeek!)
Waddington, main tower
Denali
Foraker
Cotopaxi, Antisana, Chimborazo (Equador)
Alpayamo, Hauscaran (Peru)
Aconcagua
Cook/Tasman
Kenya (and might as well knock on Kilimanjaro's door while I'm there!)
A foray into Pakistan, or Nepal would be interesting aswell.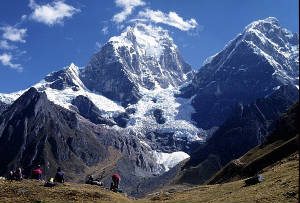 Yerupaja's striking east face photo: summitpost.org